Image source: I'm a Ginger Monkey
I'm working on my own version of a Scrap Vomit Quilt which was inspired by I'm a Ginger Monkey.  I've started to go through and sort out my scraps (ironing them even!) and I've got my numbers written out.  What I would love (love!) to do is make a version of the quilt that doesn't have more than one piece of the same fabric in it.  Which means I will need 1,375 different fabrics.
Now that's a lot of fabric for one little gnome to go out and purchase (although I'm doing my best!), so to see my dream come alive I'm going to have to put a call out to the interwebs and see if there's any other mad quilters out there that would like to swap some 2.5″ squares of scrap.
Does this sound like something you might be interested in participating in? ("Heck yeah!" I hear you all shout!)
Well here's how you too can start collecting scrap vomit!
I've created the Scrap Vomit Squares Swap; where you swap 49 x 2.5″ scrap vomit squares per partner.  The swap is set to 3 partners.  (Which means if you sign up you have to swap 3 Scrap Vomit Squares Packs – which is a total of 147 2.5″ squares)
I've created two swaps on Swap Bot (I know, not another site to join but it makes it so much easier to organize a swap) an International Swap and an Australian Only Swap.
The International Swap means that you're happy to post your Scrap Vomit Squares to anywhere in the world.
The Australia Only Swap means that you're happy to post your Scrap Vomit Squares to anywhere in Australia.
You can sign up to both – just keep in mind that swap partner allocation in Swap Bot is random so you could end up with the same person twice (but only twice).
Each swap is set to 3 partners – this means that you'll have to swap 3 sets of Scrap Vomit Squares for each swap you sign up for.  (If you sign up for both that will mean you'll be swapping a total of 6 Scrap Vomit Square packs with 6 partners – that's 294 squares.)
How to Participate:
Sign up – just click the link to either International Swap, Australia Only Swap or both and follow the instructions.
Share the good news – I've made some buttons up if you would like to put them on your blogs, etc.  It would also be awesome if you could blog, tweet or Facebook about the swap because the more people that get involved the more chance fabrics that can be swapped.
Comment – Leave a comment on this post if you would like to swap more than 3 (or 6) Scrap Vomit Squares Packs.  If we get enough people interested I'll organize another swap – depending on how many people are interested I'll either do it on Swap Bot or do it amongst ourselves.
Rules & Guidelines:
What to Swap – You'll be swapping a Scrap Vomit Square Pack. The pack contains 49 x 2.5″ squares of material.  This is enough Scrap Vomit Squares to create one Block A.  (Obviously, you can use the squares you receive any way you like.)  This is a scrap quilt so there's no expectation that the squares will be fussy cut.  You just have to make a 2.5″ square of a single material – please don't use selvage or sew scraps together to make a square.  It would be great if you could swap 49 different fabrics in your Scrap Vomit Square Pack, however if you can't do this I ask that you try to include as many different fabrics as possible it will help people to have unique and one of a kind quilts.
Give unto Others – It should go without saying, but just so we're clear: only swap material that you would be happy to receive and use in a quilt yourself.  This means swapping quilting quality material (preferably cotton).  Using a mix of pattern that you think is both pretty and vomitty.  (Obviously this one is a little subjective, so again if you'd be happy to use it swap it – if in doubt probably best to either contact the person you're swapping with to see if they'd like it or maybe keep it for yourself (and you're next scrap quilt!).)
Communication is Key – I understand that life sometimes throws you a curve ball and means that you can't always do what you would like, so if for any reason you have to pull out of the swap just drop me (and if you're so inclined) your partners an email to let me know and we'll work around it.  The more warning you can give the better so that I can redirect packages, etc.
Time is Money – Please post your squares to your swap partner by the postage date specified.  If you're anything like me just knowing that something is coming in the mail is uber exciting, so it would be great if all our packages arrive around the same time so that we can all celebrate together.
Quilt Karma – Ultimately a swap like this is only as good as what you put in to it so please remember to treat everyone as you would expect to be treated.  Chances are if you shaft someone today, you'll be shafted tomorrow.
You can find the details on how to make a Scrap Vomit Quilt here at I'm a Ginger Monkey's blog.  (This swap is in no way affiliated with I'm a Ginger Monkey so please don't harass Katy!)
If you're looking for some visual inspiration for why you should give one of these quilts a crack be sure to check out the Scrap Vomit Quilt Appreciation Society over on Flickr.
If you'd like to put a button on your blog please feel free to use the images below: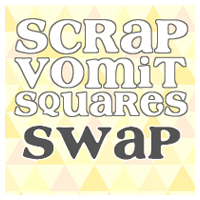 Bonus Round:
Because I like to share the love…