This week I have cooked all dishes from my childhood.  When I moved out of home my darling Mother gave me a recipe book filled with family recipes and room to add more of my own.  So this week I've been cooking from the family playlist.
Last night I made my Nana's Curried Sausages.  I love this dish.  It goes against everything I believe in, but I can't help it.  Sausages are mystery meat and we all know the rules about mystery meat.  But I can't help it, promise.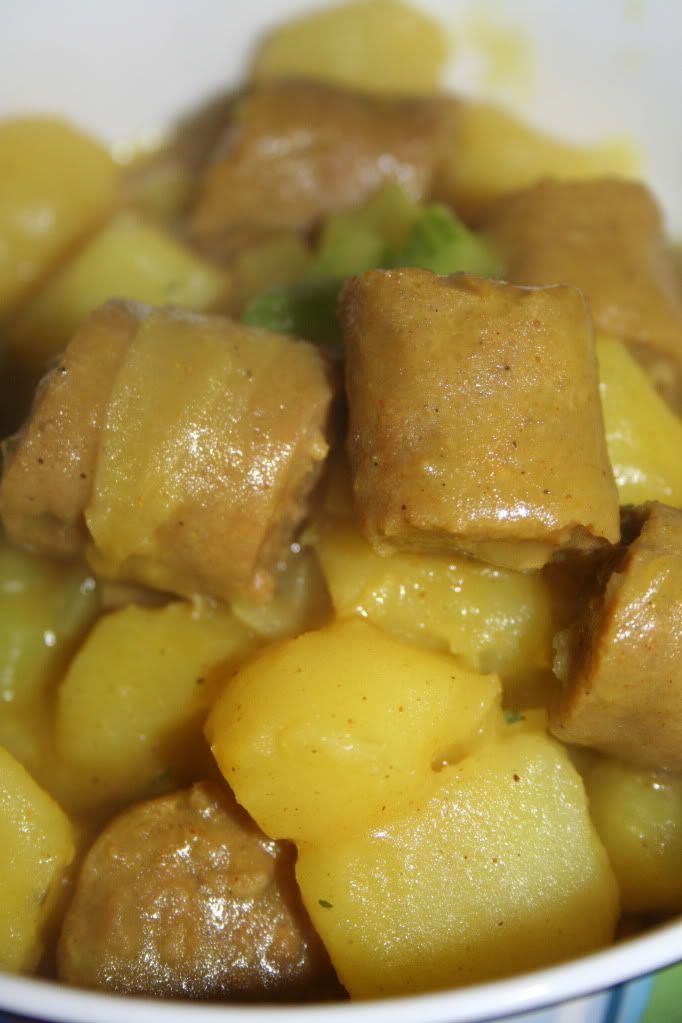 Image source: GnomeAngel
This dish is only improved by keeping overnight and reheating.  I also love to make curried sausage sandwiches with lots of butter on fresh bread.  I'm also a fan of adding Worcester Sauce to it as well.
Nana's Curried Sausages
500g sausages

1 small onion

1 carrot

3-5 celery stalks

5-6 medium potatoes

1 packet "Cream of Chicken" soup

Keen's Curry
1.  Boil sausages on low to medium heat. (Prick sausages prior to putting in the pot.  It helps release the fat and stops them from imploding.)  Once cook, drain and then dice.
2.  Peel and dice the potatoes.  Boil until slightly soft.
3.  Make "Cream of Chicken" soup as per packet instructions. (If you use cup'o soup you'll need to use all 4 packets.  You need to make 4 cups of soup.)
4.  Brown diced onion in large pot.  Add diced carrot, celery, potato and sausages.  Add "Cream of Chicken" soup.
5.  Add curry to own liking. (For us that's 3 teaspoons.)
6.  Simmer on low heat.  Add cornflour to thicken as needed.  Serve with rice.
Serves: 4