When my Mother was diagnosed with Cancer this year I headed into Tattoo Extreme in Queanbeyan and asked for a feather tattoo with a pink ribbon on my right wrist.  At the time I was really surprised to get in and see someone so quickly, but I reconciled that concern with the fact that what I was getting wasn't that difficult.
When I got to the store I was sure that the girl who'd been given the task of tattooing me was once their receptionist.  They assured me she'd been tattooing for two years and was capable.  I'd had work done there before and was really happy with it, so I saw no reason to doubt them.
We talked design and she showed me what she'd drawn up.  I really liked the design, and despite my apprehension at her skill level when ahead with it.  Halfway through it became evident that her and I weren't on the same page.
Her technique was shocking.  I've never bleed so much or felt like someone was dragging needles through my skin.  Her mixing of inks was horrible with my whites ending up looking like a pinkie brown colour.  What was supposed to be a pink ribbon ended up looking like a pink and white stripped ribbon.  The point of my feathers stem was more like a deep hole.  It was horrible.
I hoped against all hope that it would heal and come good.  Funnily enough as it healed it got worse.  I ended up scarring across the middle of the design.  It also become evident that the "artist" has colored outside the lines.  A pre-schooler can keep it between the lines!
I can't even begin to explain how upset I was.  To make it worse it's position on my wrist was so prominent that every time I did anything I was forced to look at it.   It made me so very unhappy and I covered it every chance I had.
HUBBY and I spoke about it and decided that I should try and find someone to cover it up.  I will never return to Tattoo Extreme in Queanbeyan.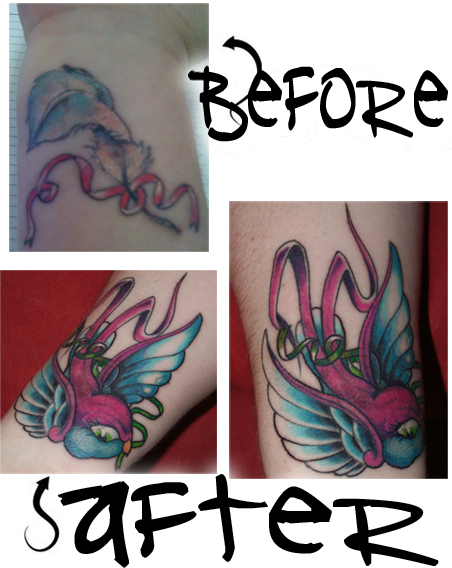 I rang and booked an appointment with Tattoo Culture in Tuggeranong.  When I went in there for my pre-appointment I spoke with Rachel.  She was BRILLIANT!  Put my mind at ease that it could be covered and that they would do their best to make sure I was happy with it.  She was really lovely and polite.  She introduced me to Luke who would be doing the work.  I left there with such a smile on my face and a song in my heart.
Originally Luke and I had spoken about turning the feather into something that looked more like a feather.  Even trying to make it look more like a peacock feather.  When I turned up to my appointment and we sat down to do the work it became evident that he wouldn't be able to make it look like it should.  He explained his concerns and we talked about options.  We decided to leave it and come back in  a week after he'd had a chance to do a design to cover it.  I had suggested a sparrow, but as the week progressed I became more concerned about ending up with something that looked like I'd served time.
When my appointment came I turned up armed with a lot of other designs and ideas and Luke patiently talked me through them all.  He even spent some time doing a mock-up of another koi on my arm.  The design of the sparrow sat on the bench and as I looked at it I became curious about what it would look like on my skin.  So he humoured me and put the outline on my wrist.  It was love at first sight.  Despite spending an hour talking other designs I gave him the go ahead to do the sparrow.
He was AMAZING!  Calm, confident and gently.  He just hadn't warned me how much going over already tattooed skin would hurt.  Mother Trucker!  I've not experienced anything like this pain! We sat for two hours and got a majority of the design done.
That was back in July.  Yesterday I went in and had him finish it up – which is why there's some scabbing in these shots.  Much of the color on the body had faded and the old design was coming through, so Luke recolored with darker versions of the ink the areas we'd already done.  He also added color to the ribbon and touched up some of the line work.  Now she's done and she's beautiful – just like my Mum!
I'm so very happy with it. I love the little details, like the point on her beak, the colour of her eye and the graffiti feel to the tail.  I said to HUBBY when I got the original work done that it would be my last, but after having Luke work his magic I'm so tempted to get more work done.   Only this time he wouldn't be held back by somebody else's work, he could do something spectacular.
I'm also thinking that if I ever get 1,000 unique visitors to this site in one day I'll get Luke to tattoo me a gnome to commemorate… I could do with a little gnome companion!